RV Park
The Jordan Creek RV Park is open 365 days a year, 24 hours per day.
The park has an on-site, live-in manager who lives in a 1500 square foot home on the upper level of the Administration Building.
As shown on the plot map the park has 200 pull through spaces that straddle Jordan Creek with 151 spaces north of Jordan Creek.
Plot Map
Access
Access to the RV Park is from Exit 99 on Interstate 5, as shown. Going south on Interstate 5
turn left at the stop sign and go around Seven Feathers Truck N' Travel Center. Going North on Interstate 5
exit 99, past the Seven Feathers Hotel & Casino Resort, turn right under Interstate 5 and go north around Seven Feathers Truck N' Travel Center.
MAP IMAGE HERE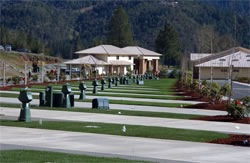 Spaces
Each pull thru parking space in the Jordan Creek RV Park is a level concrete space measuring 12 feet wide by 75 feet long. Each separate space has its own full line of amenities.
Satellite TV
Telephone
Internet Hookup
Potable Water
Sewer Connection
When you step out of your RV you will be greeted with a concrete walkway not mud.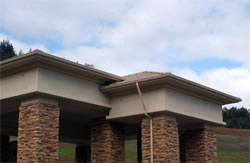 Community Amenities
Community amenities at the Jordan Creek RV Park are designed with your comfort, enjoyment and relaxation in mind.
Covered BBQ area that seats 75.
Indoor 24 x 36 foot swimming pool.
Additional free parking for travel vehicles.
Professional landscaping.
Free hot meal delivery from Creekside Restaurant
Two shower / laundry buildings
Free on-board RV septic dumping.
Entertainment
The famous Seven Feathers Hotel & Casino Resort and the award winning Camas Room restaurant is but a short 10 minute free shuttle ride away - to the front door!
In addition:
There are free hiking trails in the Jordan / Alder watershed.
There is a kids only fishing pool below the dam.
Bird watching, wildlife viewing.
Canoeing / kayaking / boating / fishing on th enearby South Umpqua River.
The historic Douglas County Museum is 20 north in Interstate 5.